New Construction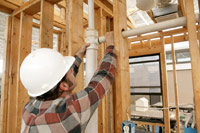 Pine Valley Plumbing, Inc. can help you with all of your new construction plumbing needs. Our company can help you plan your dream home with top of the line products from pot-fillers to insta-hots, hand-painted sinks to infinity tubs, rainhead showers with body sprays to saunas and hot water recirculating systems. We can also plumb your starter home, rental house, or office building with quality products at sensible prices that will keep your budget in check.
Pine Valley Plumbing can help you optimize your plumbing system with products such as water softeners and filters that may help prevent damage to your plumbing system over time and can help you identify products such as on-demand water heaters that are not only energy efficient but often qualify for generous rebates.
Our qualified plumbers will provide you with a quality job and a clean jobsite. Years of experience will help your project run smoothly. Pine Valley Plumbing always maintains all licenses, bonds, and insurance and is a proud member of the Central Oregon Builders Association.
Pine Valley Plumbing offers leaky pipe repair, installation and repair of toilets, sinks, faucets, garbage disposals, hose bibs, recirculation pumps, booster pumps, water and sewer mains, and in-home plumbing inspections. We install and repair gas, electric, and tankless water heaters, change out elements and thermostats, and can provide you with energy rebate information on qualifying new installations.
Call us today at
541-385-8709
with questions, comments, or for more information. You may also
contact us online
for more information on our plumbing services.
Providing all types of plumbing and water heater services to Bend, Sunriver, Redmond, Sisters, and the surrounding Central Oregon areas.